Going Organic...the Easy Way
Get fresh, organic produce through the summer from Honey Brook Organic Farm.
Hello everyone:

I thought I would take some time to express to you my personal experience with participation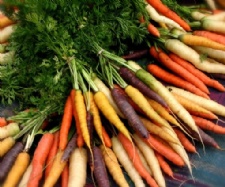 in a CSA and try to answer some of the common questions many of you have expressed to me.
I have tried for the past 2 years to participate with Honey Brook Organic Farm and each time I got in too late! Don't let this happen to you!  Honey Brook Organic Farm is the most experienced organic farm in NJ and produces the finest quality and best tasting produce available.
A few facts:


What is a CSA? CSA stands for community sponsored agriculture. It is a type of cooperative in which a consumer commits to a full season of produce months in advance to the start of the growing season.

How big is the box? You will receive a bushel box full of assorted produce filled with assorted produce perfectly sized for a family with average vegetable eating habits.
In my personal experience, and again I have not been lucky enough to participate in the CSA through Honey Brook, I have used some of the weekly vegetables into cooked winter meals which I froze or simply froze some the vegetables.  This way I was able to use the vegetables I purchased through the CSA for nearly a year!  
How do I get my box? Boxes will be delivered to Chabad every Sunday morning (first box will be delivered based on harvest but anticipate late May or early June through November).  Boxes will be available for pick up from 9-1.  I plan to work with local food pantries to pick up any boxes remaining after 1pm.

Neat fact- The farm was on TV!! Food Network recently did a segment on consumerism waste related to produce. It was a very eye opening show featuring Bobby Flay.  Check out the video at:

www.foodnetwork.com/the-big-waste/video/index.html

What does it cost? A boxed share is $685- or $27.40 per week.  Many families choose to "share" their boxes with 1-2 other families to decrease their own personal cost.  I also have done this and it has been a wonderful experience.  Along with the many recipes the farmers will provide in the boxes, the shares with my friends also resulted  in "shares" of recipes and meals together.

How do you sign –up? Time is running out! Most of the sites are sold out so please do not delay. Visit the farm's website at:

www.honeybrookorganicfarm.com

and fill in your application.
Thanks!
Mindy


Everyone wants to eat healthier foods, but sometimes it's tough to find good suppliers—if only one lived next door to an organic farm, where you could pick your produce each week and enjoy the freshest and most savory vegetables.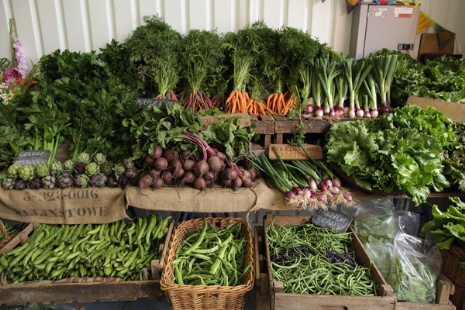 While you won't have to pick them, starting in June you can pick up boxes filled with fresh organic produce from Honey Brook Organic Farm, in Mercer County, at the Chabad Jewish Center, at the intersection of King George and Valley roads in Basking Ridge.
Honey Brook has established delivery locations for its produce throughout the state, and uses a community-supported agricuture model, where subscribers sign on and pay for a share of the produce through the growing season. Shares are $685, which can be broken into several payments, and the produce will be delivered for pickup at the Chabad between 9 a.m. and 1 p.m. every Sunday from June to November.
"To my knowledge, there are no other organic (community-supported agriculture outlets) in the area," Mindy Rodden, director of Outreach for Zimmer Preschool and Olam Academy at the Chabad Center, said. "This is a wonderful opportunity for our community."
To apply to participate, follow the instructions on the pdf application form. 
Watch a very interesting video about the US food supply -
"Real food, is that too much to ask?"